#1 Handyman Service in Teaneck, NJ
Welcome to Metro Home Improvement
Home maintenance projects can be daunting, expensive, and time-consuming. As a homeowner, you may feel overwhelmed if you don't know who to hire and what options are available.
Even the simplest maintenance project can become a major headache if you're unprepared. From repairing a leaky faucet to installing new cabinets, countless things can go wrong.
It's hard to know who to trust when it comes to home servicing. You want someone who will be honest with you, do quality work, and won't overcharge.
Metro Home Improvement is a company providing standard workmanship for over ten years. We are a locally owned and operated business, so we understand the needs of our community. We also offer a variety of general handyman works at competitive prices, and always ensure that you get the right solution for your needs.
Professional Handyman Services Provider
Teaneck and Surrounding Areas
Looking for a professional handyman service? Look no further!
We are the most reliable and affordable handyman solution in Teaneck, NJ. We do it all, from TV installing, basement remodeling & waterproofing to drywall fitting! So whether you need our help with the small repairs or need to get your entire roof or floor replaced, we are a perfect choice! All you need to do is contact us and book an appointment! Then, we'll take care of the rest.
We serve the whole of the city and surrounding areas in the state of New Jersey. So if you live in the area and are looking for quality work within a budget, you're in the right place. Contact us today and book an appointment! You won't regret it!
Installations
Whether you are dealing with installing a new flat screen TV, alarm system, doors, windows, or anything else around the house, our knowledgeable and friendly crew is always ready to lend a helping hand. We're here to make your life easier, so get in touch with us and let us take care of the rest. With MHI, you can rest assured that your house is in good hands!
Repairs
You need help with repairs and don't know who to call. Look no further than MHI. We are the most trusted name for any repair and remodeling projects. Our prices are unbeatable and our staff is friendly and customer-focused. We're here to provide you with any handyman needs you may have. Contact us today!
Renovations
We provide comprehensive services for all your needs, whether living room and bathroom renovations or an entire house makeover. With years of experience in the industry, we're well-equipped to handle any job, big or small. Plus, our competitive rates mean you can rest assured you're getting the best value for your money.
Get a No Obligation Quote!
At our business, we understand that finding the right services can be a difficult and time-consuming process. That's why we offer no-obligation quotes to our customers.
We want to make it as easy as possible for you to find the services you need, and our group of professionals will work with you to find a solution that fits your budget and needs.
We know every customer is different, and we're committed to providing the best possible solution to all catered to their needs. So contact us today to schedule a free consultation. We look forward to working with you.
Why is Selecting the Right Company Necessary?
Hiring the right handyman can make or break your project when it comes to remodeling or renovating your space. With so many things to consider – from the scope of work to be done to your budget and timeline – it's essential to do your homework and thoroughly vet any potential handyman before hiring them. Otherwise, you run the risk of turning your project into a complete nightmare.
Luckily, when you choose to work with us, you don't have to worry about it at all. We're a group of expert professionals with years of expertise in the field. All our staff members are local, well trained and vetted before hiring. In addition, we always complete our work on time and within budget.
At Metro Home Improvement, we understand that every customer's needs are different. That's why we work hard and work closely with each of our clients and meet all their demands.
We take pride in our workmanship and go above and beyond to provide extraordinary customer support. As a result, we are confident in our ability to meet or exceed your expectations and guarantee your satisfaction 100%.
Whether you need us for a simple fixing or a complex home improvement project, our team of skilled professionals is here to help. Contact us today to learn more about how we can help you achieve your vision for your home.
One Stop Solution for All Your Home Needs
Best Handyman Service in the New Jersey Area
Imagine hiring one contractor who can do it all! Whether you need minor services like fixing a leaky faucet or extensive renovations like building an addition to the house, MHI is here for you. We have years of skills and expertise and know how to get the job done right every time.
Book us once, and never worry about calling another contractor again! With our reasonable prices and flexible scheduling, we will be there when you need us most.
MHI is the one-stop solution for all your home improvements, including installations and repair needs. Whether you need us for a small project like drywall fixing or a large project like kitchen remodeling, we're the perfect choice.
Teaneck's Go to Residential and Commercial Handyman
For Home Improvement, Repair and Installations
At Metro Home Improvement, we pride ourselves on being the go-to experts for all your handyman needs. Whether you need us for small fixing or big remodeling, you can be sure that we will always provide reliable and affordable services.
We understand that your time is precious, so we always strive to finish our projects as quickly as possible without compromising quality. With over 10 years of expertise in the industry, you can be sure that you are in good hands when you choose us.
We're also fully licensed and insured, so you can rest assured that your property is in good hands. Plus, our prices are always competitive, so you can be sure you're getting the best value for your money. There's no one better than us, and we would recommend only us for all your Teaneck handyman services. Contact us today to schedule a free consultation. 
Get Your Home Fixed in No Time!
When it comes to home repairs and maintenance, it's not as easy as it sounds. Most people don't have the time or skillset to fix their homes independently. Plus, many home fixings are difficult and dangerous tasks for the average person to try.
MHI is here to help. We are a group of professionals who can quickly and affordably take extra care of any task or fix-it job in your home.
We offer a convenient, affordable, and safe solution for all your house needs. We do everything from fixing a leaky faucet to fixing a hole in the wall. Contact us today for a free quote.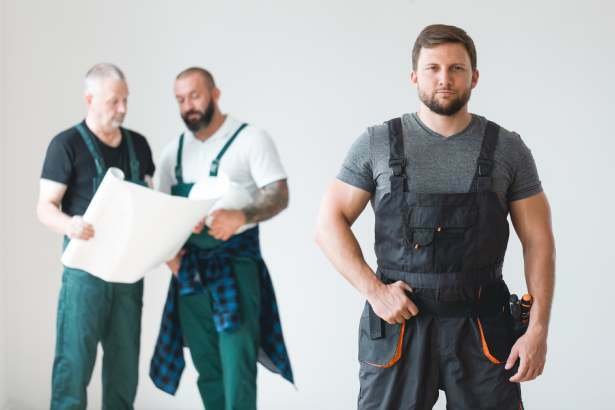 Looking to make some home improvements? Our Handyman Services is here to help. And we're always available. Please give us a call or book an appointment online. We'll be happy to provide a free quote for any project you have in mind. So don't wait any longer, MHI is just a phone call away. Give us a call today!
Frequently Asked Questions
For any questions, please feel free to get in touch with our AWESOME team!
Working Hours
Monday: 6AM-6PM
Tuesday: 6AM-6PM
Wednesday: 6AM-6PM
Thursday: 6AM-6PM
Friday: 6AM-6PM
Saturday: 6AM-6PM
Sunday: 6AM-6PM
Teaneck is a township in Bergen County, New Jersey. As of the 2010 census, it had a population of 39,776. Using parts of Ridgefield Township and Englewood Township, the city was established on February 19, 1895, by an act of the New Jersey Legislature.
This town is home to the campus of Fairleigh Dickinson University as well as a number of corporate and regional headquarters for companies. The town also has a number of parks and recreation facilities, as well as a vibrant arts community. Teaneck, NJ, is an ethnically diverse community, with residents from a variety of backgrounds and cultures. The town offers something for everyone, making it an ideal place to live.